Black Pearl
A dream come to life — The Black Pearl, brings a modern contemporary event space to the banks of the Columbia River. The landscape for this event space was strategically designed to provide multiple flexible outdoor gathering spaces that can be used for different types of events.
The landscape design mirrors the architecture of the building. The diagonal lines that make up the southwest corner of the building inspire the paving at the entry of the building, parking lot and the southeast side of the exterior space. The east side of the parking lot includes large diagonal concrete slabs that form a distinct and flexible outdoor space that can be gated off to host different events. As the design transitions into the gathering space around the first southeast entrance of the building, the diagonal layout continues with smaller architectural slabs that create a checkerboard effect through the use of two different color slabs.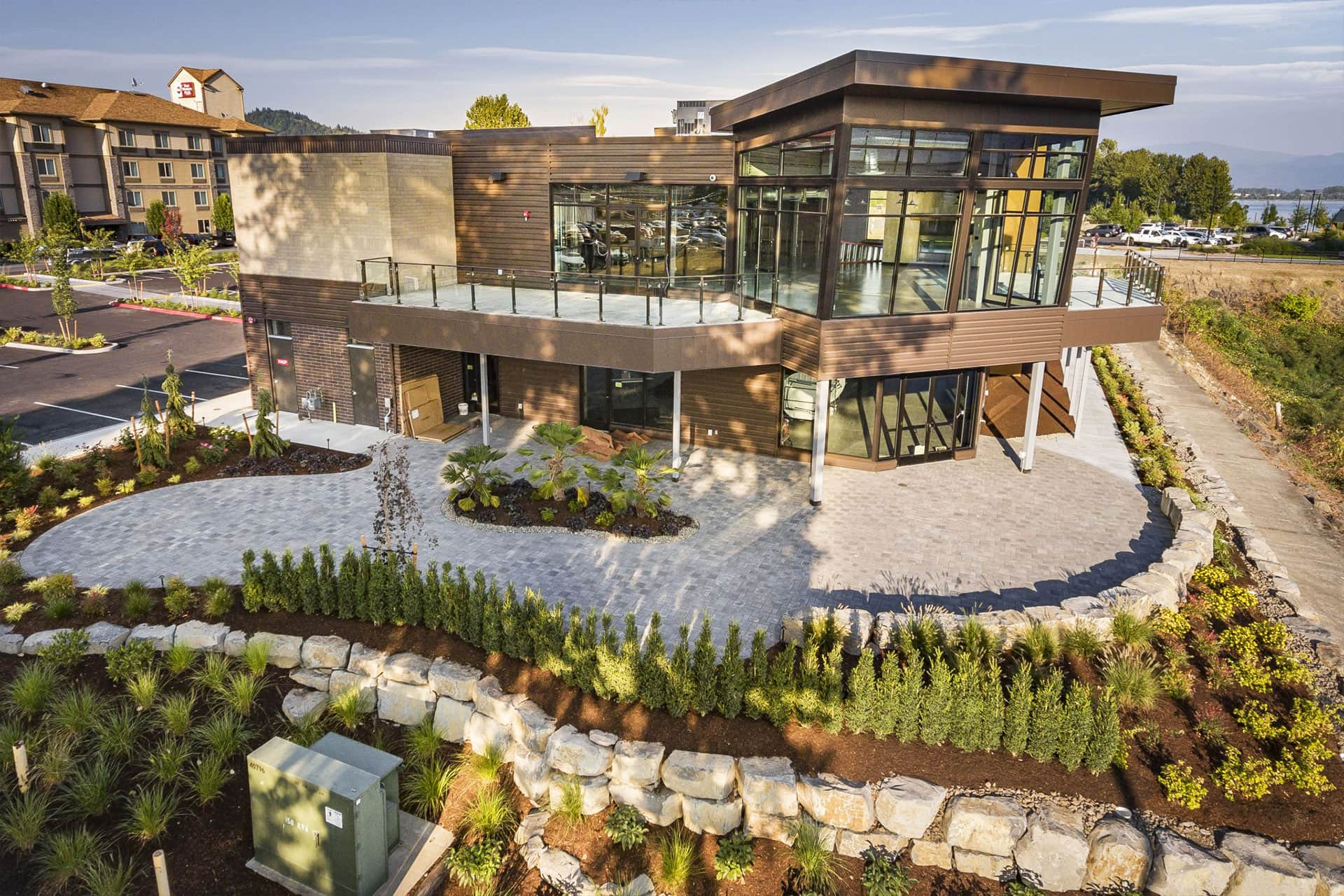 The exterior doors at the southwest corner of the building open on to an informal curvilinear gathering space with different smaller pavers and a boulder seat wall. Behind this boulder seat wall are three boulder retaining walls that hold this slope on the edge of the entrance to the marina. The plantings throughout the property are based on a geometric layout to complement the hardscape layout.
With the Washougal Waterfront Park located to the east of The Black Pearl, creating a transitional landscape was an important aspect of the design. A swale located in this southeast corner beyond the parking lot serves as a transition point from a geometric planting layout to a natural layout resembling a more native area. The Black Pearl provides a space where people can host and enjoy the most important events in their lives and experience the beauty of the Pacific Northwest along the banks of the Columbia River.