Gro November Employee of the Month
News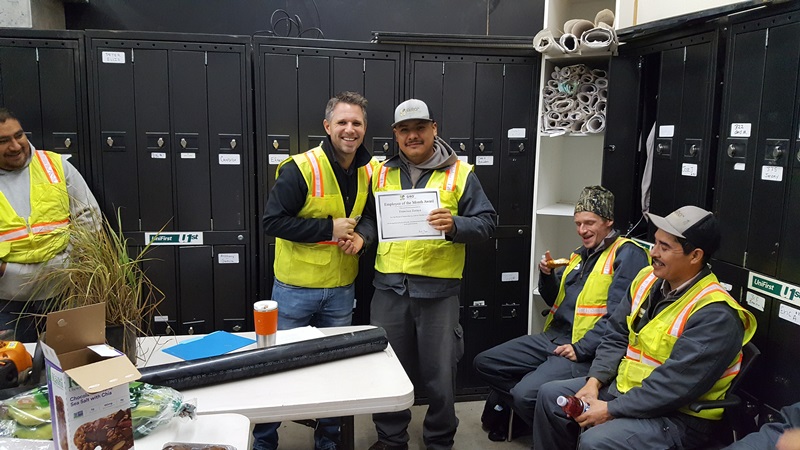 [et_pb_section admin_label="section"][et_pb_row admin_label="row"][et_pb_column type="4_4″][et_pb_text admin_label="Text"]
We had our monthly safety meeting today, November 17, 2016 in Vancouver, WA and recognized Francisco Zozaya, Maintenance Foreman, for Employee of the Month.  Francisco provides landscape maintenance services.  Francisco was nominated by Alexa Fornes for the following reasons:
Committing to ultimate customer satisfaction
Providing clear direction to teammates
Promoting safety by wearing full safety gear and ensuring team does as well
Communicating issues or problems
Tailoring execution of services to individual customer needs and requests
We are proud to have Francisco as part of the team.  Thank you for providing such excellent landscaping service to our customers.
[/et_pb_text][et_pb_signup admin_label="Email Optin" provider="mailchimp" mailchimp_list="ab385d101e" aweber_list="none" title="Sign up for landscaping tips, special offers and news from Gro Outdoor Living" button_text="Subscribe" use_background_color="on" background_color="#13b2c4″ background_layout="dark" text_orientation="left" use_focus_border_color="off" use_border_color="off" border_color="#ffffff" border_style="solid" custom_button="on" button_letter_spacing="0″ button_use_icon="default" button_icon_placement="right" button_on_hover="on" button_letter_spacing_hover="0″ button_text_color="#000000″ saved_tabs="all"] [/et_pb_signup][/et_pb_column][/et_pb_row][/et_pb_section]