Paver Patio Design for your Landscape in Vancouver, WA
Paver patios, when designed and executed by pro landscape designers, ad function, value, and enjoyment to your Vancouver, WA, and Portland, OR, area home.
Landscaping Tips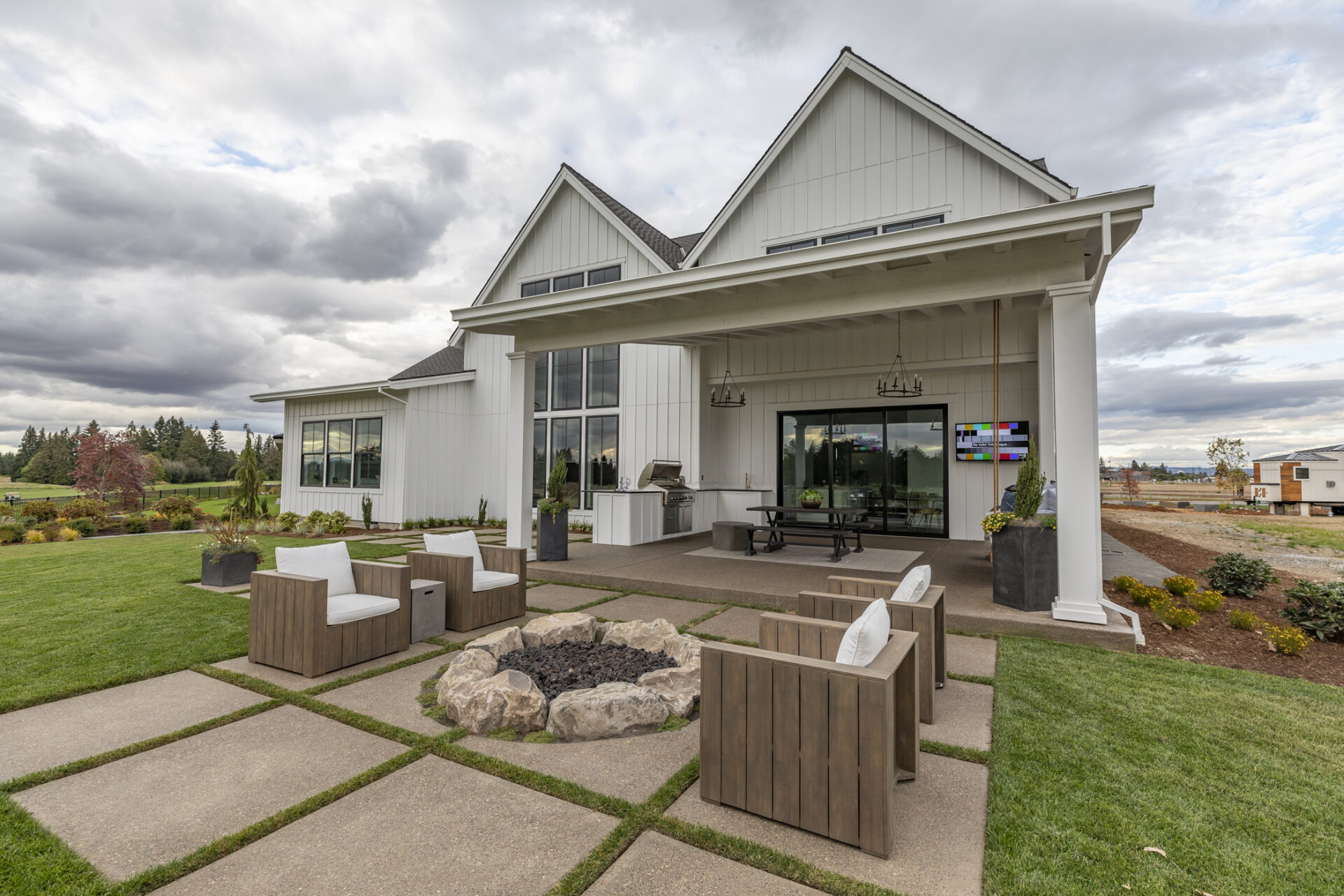 Patio design, planned with care and creativity, not only becomes a value-adding asset to your home, but expands your living and entertainment areas substantially. Elements such as awnings will complement any patio design, adding both color and protection against the powers of nature.
Your patio design will depend on the area you have available, the maintenance-level you prefer, and your lifestyle needs. You may need some serious landscaping, and choose complicated water features. Or you may have only a limited space, and an even more limited budget. A patio doesn't have to be oversized, in order to be functional. A competent landscaping designer will be able to present you with a patio design, perfect for your pocket and property.
You can draw on a wealth of ideas while planning your patio design. Magazines are an excellent source of inspiration. The idea is to make the patio an extension of your home. To achieve this ideal, the patio design has to blend in with the design of your living space. This includes the architecture, as well as the interior décor.
A number of paving possibilities are available. Concrete patio pavers or interlocking patio pavers are extremely popular, affordable, and durable. These come in sizes, shapes, and textures to fit from a simple patio design, to an elaborate landscaped outdoor area.
Stone or brick patios are another viable option, especially if durability is a concern. If you choose a stone patio, make sure that the pavers have been fired in such a way that they are weather resistant. A wooden deck has its place in patio design, but also has limitations with respect to lifespan and maintenance. However, if the planned patio area is sloped, or has drainage problems, a deck may be a simple solution.
The features you incorporate into your patio design, create atmosphere. A water feature facilitates a feeling of tranquility and relaxation. Another advantage is that it helps to mask noise, such as passing traffic. You may choose to add an herb garden, with lavender and other fragrant, calming plants. Flower beds or boxes can be a source of greenery and color. The patio furniture you choose, will depend on your personal taste and budget.
Keep in mind that exposure to sun and showers necessitates quality materials. Colorful canvas awnings add an elegant finishing touch to your patio design. To use your extended 'living room' to the fullest, it is vital to have protection against the sun, wind, rain, and worrisome insects. Awnings made with quality fabric offer UV protection, are weather resistant, and waterproof. Look for models that can be retracted when you want to bask in a bit of sunshine, or when you want to enjoy the company of the moon and stars on a romantic evening out… Some awning designs make provision for an extra screen that can be added, which will give you an insect-free zone. You will be able to relax and enjoy visiting with guests, while nasties such as mosquitoes and flies are kept at bay.
One of the best investments you can make in your property, is the addition of a harmonious patio, done within the guidelines of a well-planned patio design.
Interested in adding a new patio or upgrading your current one? GRO Outdoor Living can help. Our integrated approach to crafting projects takes advantage of the skill and expertise of our diverse, experienced staff and results in a luxurious, distinctive landscape for your home or office. Contact our team to schedule a free estimate appointment.