Landscape Water Features & Fountains in Vancouver, WA
Water features and fountains are a great way to add a cooling, calming, and beautiful element to your outdoor space in Vancouver, WA
Water Features
For Water Feature and Fountain Installation, Contact Us Today.
Water features and fountains are a great way to add a cooling, calming, and beautiful element to your outdoor space in Vancouver, WA. In this blog we will go over the essential building process of these water features and our favorite versions of them.
Water Feature Build Process
Firstly, a design must be created. Decisions around the water feature's size, style, stones, and reservoir design will inform the blueprint for the project. There is a plethora of styles that we have made that will help you narrow down your vision. These styles include water gardens, ponds, waterfalls, streams, bubblers, and more. Whatever your vision, our designers can bring it to life. Additional factors to consider for design include the budget, property limitations (slopes, sediment, etc…), and timeline.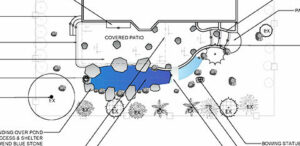 Once a design has been finalized, excavation will begin. The length of this process varies greatly on the scale of the project but for small features will take less than a day. Once excavation is finished, waterproof fabric or a hard-shell reservoir will be installed along with the appropriate plumbing and wiring.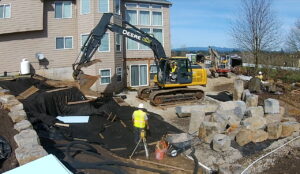 Lastly, the construction of the visible portion. Large equipment may need to be used depending on the size of the stones used. The placement of stones is not only important for visual effect but also for maintenance. Easy access to working parts will allow for easier and less expensive repairs and maintenance, and thus a greater peace of mind.
The Different Water Features We've Made:
Waterfall ponds
Waterfall ponds are the perfect combination exciting moving water and calming still water. They can house fish and plants while also providing their own life to your space with cascading waterfalls. We have completed both large and small styles for a slew of different landscapes and budgets.

Bubblers
Bubblers are made with a variety of stones, clay fountains, and anything else you can hollow out and pump water through. Basalt is one of our favorite bubbler materials for its strength, beauty, and columnar structure. Bubblers typically consist of a water reservoir (w/ pump) buried under river rocks with the bubbler securely installed in the river rock.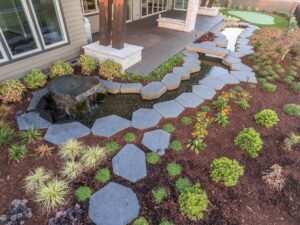 Streams
Streams are great because they can span much of a landscape and bring the joys of a water features to multiple areas of your space.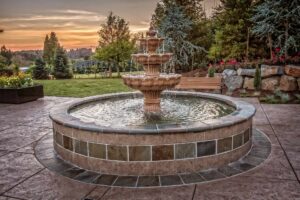 Fountains
Fountains have a classical and timeless look that elevates any space they occupy. They also can be installed in more places than typical water features because they are above-ground.
For more on our Water Features, check out or Water Features page
For more information to consider when dreaming up your water feature, check out this article by Hoffman's Water Scapes in Ohio.