Our Landscapers Favorite Evergreens for Vancouver WA
Evergreens are a great way to keep your landscape lush year-round. Our landscape designers use them to ensure beauty in the Vancouver WA winters.
Nursery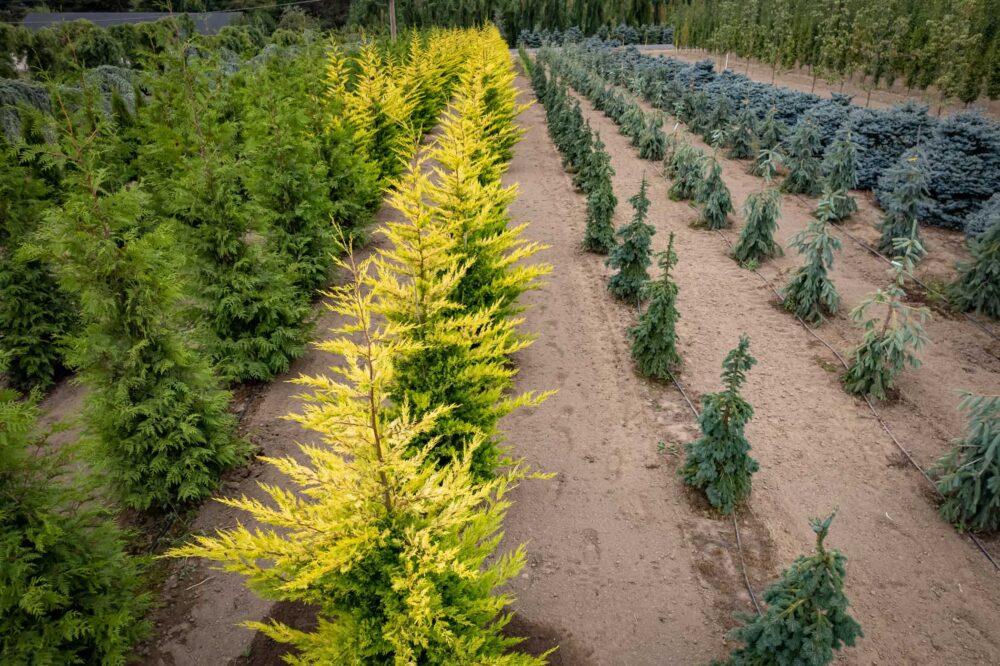 For Planting Design and Installation, Contact Us Today. 
Evergreens are a great way to keep your landscape lush year-round. Our landscape designers use them to ensure beauty in the Vancouver WA winters.  A common misconception about evergreens is that they are all coniferous (cone-bearing) but that is not the case. There is an abundance of non-coniferous evergreens, especially in temperate climates like the Pacific Northwest. Our nursery in Ridgefield, WA grows a large assortment of evergreens for all sizes of projects. Here are some of our favorite species that thrive in the greater Portland OR area:
Cupressus Glabra
  'Blue Ice'
For landscape supplies in Vancouver WA, check out GRO Landscape Supply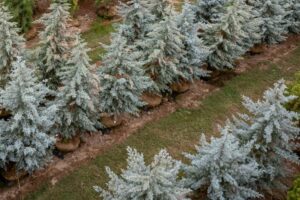 First on our list is one of our favorite blue trees, the Cupressus Glabra 'Blue Ice'. This exceptional conifer is a variety of Arizona cypress. It has a relatively compact conical shape and rapid growth. The Blue Ice can grow a foot a year and will reach about 14 feet tall and 6 feet wide after 10 years. This medium-sized tree, being from an Arizona climate, does extremely well through droughts and loves full sun. The Blue Ice's minimum USDA hardiness zone is 7, meaning it is just on the cusp for the Portland area which is typically 8b. 
Cupressocyparis Leylandii 
'Gold Rider'
Find this species, and many more, at our local Ridgefield WA Nursery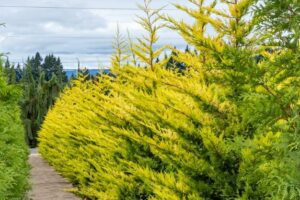 Next up is a staple for our Landscape designers. The Gold Rider provides year round greens and yellows that compliment any landscape. This rapid growing tree can reach 35 feet tall and 15 feet wide. They are commonly planted in a line to form hedges, privacy screens, or wind breaks. For the brightest foliage colors be sure to plant in full sun. The Gold Rider is significantly more tolerant of cold temperatures than the Blue Ice. Its preferred USDA zones are 5-9. 
Vinca Minor
  'Periwinkle' or 'Myrtle'
See how our landscapers could design your backyard dream here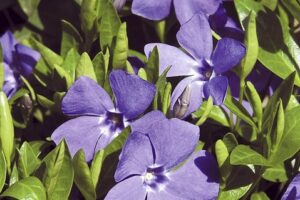 Periwinkle is an excellent evergreen ground cover for the Pacific Northwest. It features dark green oval shaped leaves with seasonal blooms (spring and sometimes fall) that are purple, blue, or white depending on the cultivar. These fast growing plants not only offer beautiful ground cover but also can serve as erosion control on sloped terrain. Landscapers love periwinkle because it can thrive in shade and full sun while staying lively all year. 
Rhododendron macrophyllum
'Pacific Rhododendron'
For more native plants, check our Ridgefield WA Nursery stock here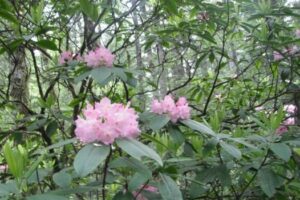 The rhododendron is a classic evergreen shrub here in the pacific northwest. This particular variety is known as the Pacific Rhododendron. It is native to the west coast of the United States and is actually the state flower of Washington. This particular rhododendron grows up to 25 feet tall in the right conditions (partial shade and plenty of precipitation). They are particularly hardy for being a northwest native and can survive in USDA zones down to 4. 
Arctostaphylos uva-ursi
'Bearberry' or 'Kinnikinnik'
For pacific northwest backyard ideas and landscaping in Vancouver WA, check out our design page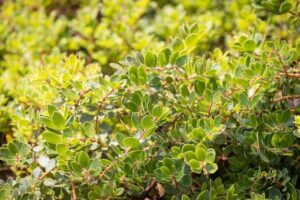 A lesser known and equally beautiful evergreen shrub is Bearberry, aka Kinnikinnik. It is extremely hardy and can live in zones all the way down to 2. Bearberry plants reach around 10 inches off the ground and can spread up to 15 feet. Their leaves are thick and waxy which lends to their ability to withstand extreme cold. Bearberry occurs naturally in sandy and rocky terrain so our landscape designers love to place them in rock gardens and soils that have a high sand content. 
For a wide selection of evergreens, deciduous plants, and more, please visit our Nursery's online store or come see us in person
19107 NW 41st Ave.
Ridgefield, WA 98642
(360) 727-5968
Mon–Fri: 7:00am-4:00pm