Pool Builders & Installers in the Portland, OR, Area
Portland, OR, has one of the lowest rates of homes-with-pools in the U.S., but with more time spent at home, a record high temperature in 2021, and movers from California, Arizona, and Nevada, the demand for pools is on the rise.
Pools & Hot Tubs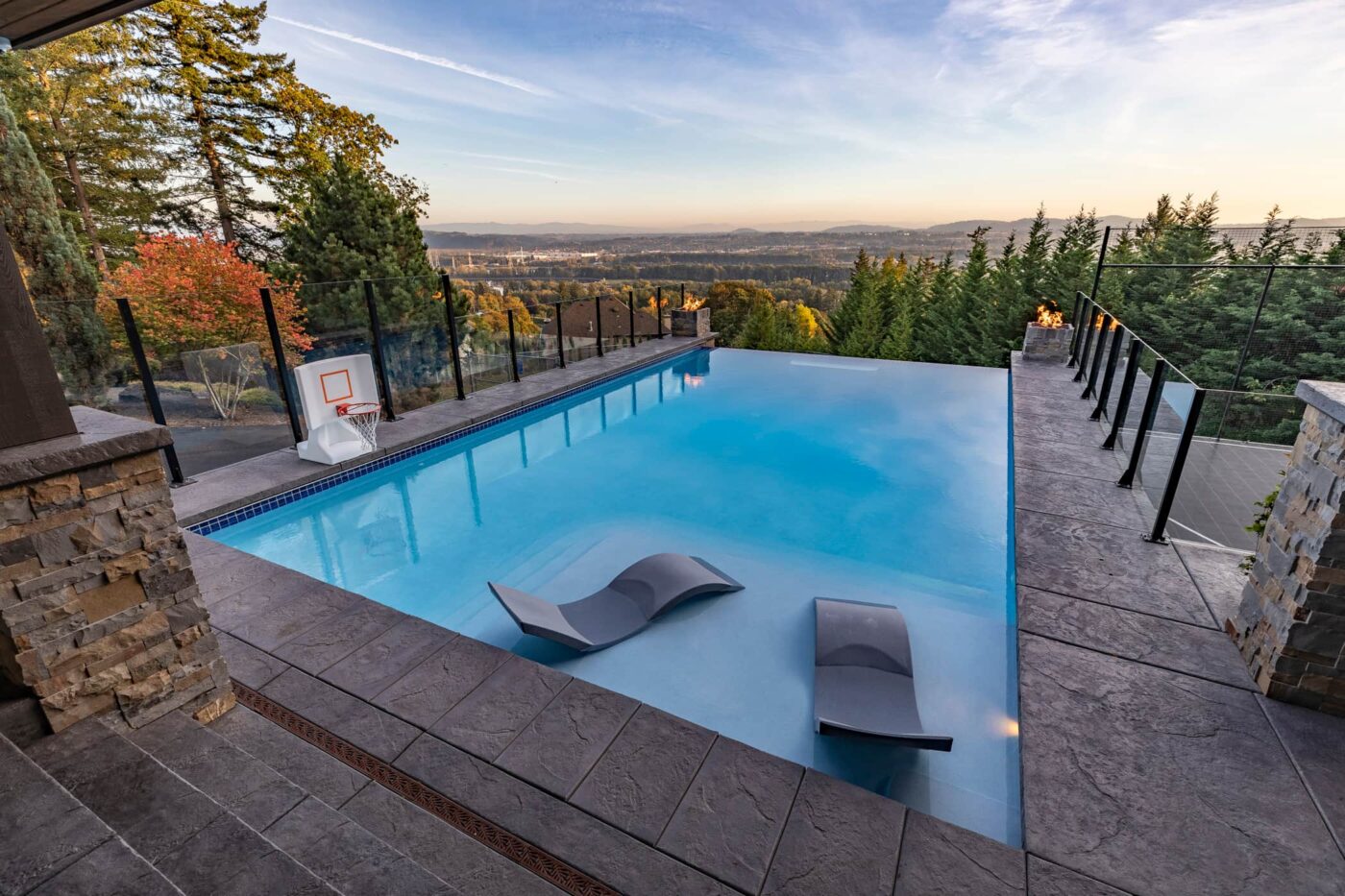 Looking to Add a Pool to Your Property, Get Started Here.
Portland, OR, has one of the lowest rates of homes-with-pools in the U.S., but with
more time spent at home, a record high temperature in 2021, and movers from
California, Arizona, and Nevada, the demand for pools is on the rise. What was
once viewed as an unnecessary liability to prospective home buyers is now
becoming a luxury that home sellers can leverage to close a deal. At GRO, we install
a variety of pools to match our client's needs and budgets. From inground pools
and pool houses to above ground pool pads and decks, we'll build your oasis to
ease your stress, not add to it.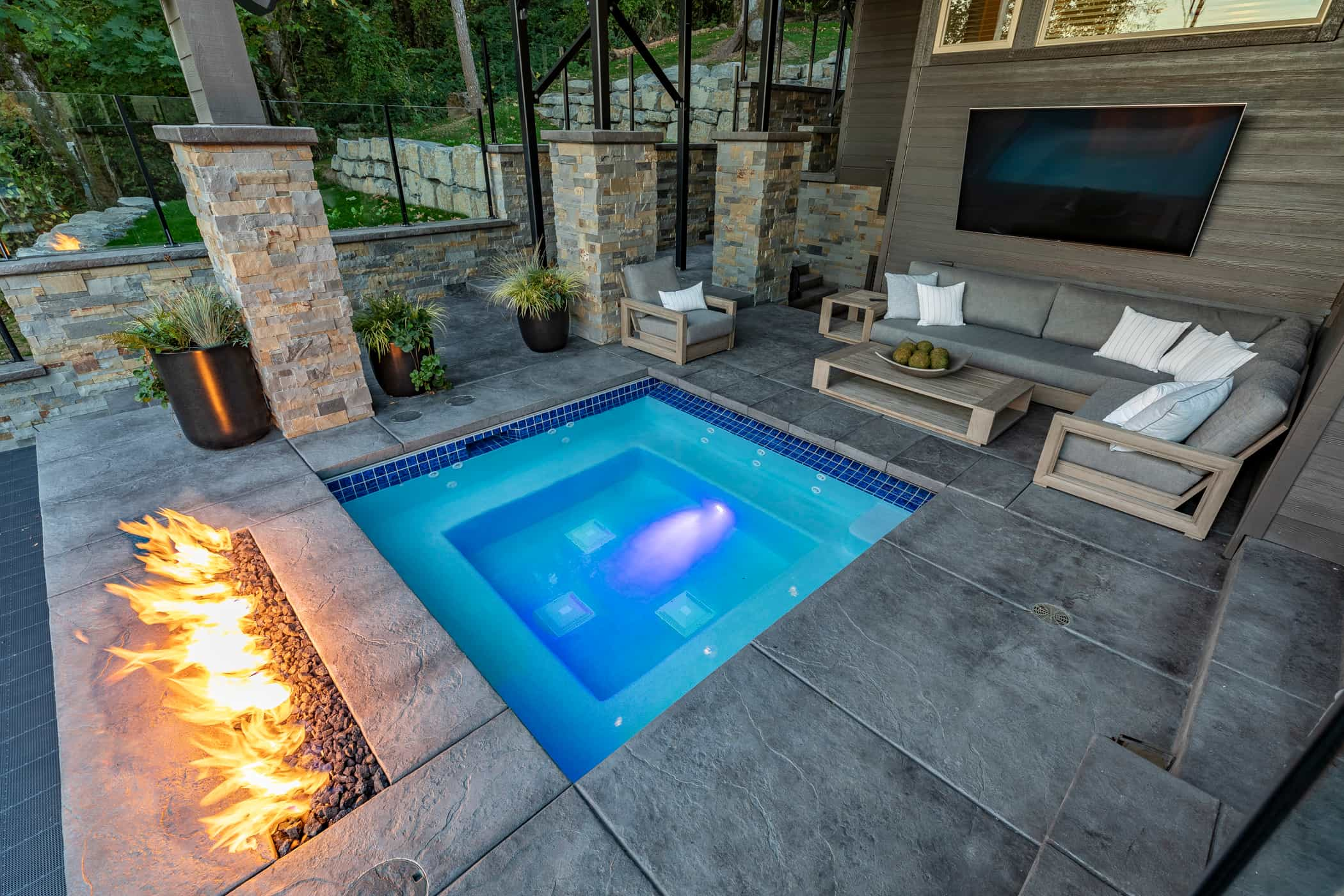 For more on this Project, Click Here.
One of the first things people looking for a pool want to know is pricing. Pool prices
are extremely variable based on the style, size, and desired features. The cheapest
end of the spectrum are inflatable pools, which range from $100-$1000. While
certainly the most affordable option, inflatable pools are not as durable nor as
sightly as their inground counterparts. Next up are above-ground pools. These
come in a variety of sizes and offer more durability than their inflatable cousins.
This can be seen in their slightly higher prices ($1,000-$5,000).
The next tier up,
swim spas, have gained lots of popularity over recent years for their convenience,
spatial efficiency, and versatility. Swim spas can have attached hot tubs, massage
jets, stationary swimming stations, and more. Their prices range from $10,000-
$35,000. Last on our list are inground pools, which have a price range of $35,000-
$100,000+ and can be built with concrete, vinyl, or fiberglass. Concrete builds are
the most common because they are the most durable and the most beautiful. The
rest of this article will highlight the various stages of building a concrete pool.
Pool Construction Process
Most people don't think about getting their pool built until spring, but design and
construction take months to complete. Starting in the winter is the best way to
ensure your pool will be ready for those hot summer days. Pool companies and
builders in the northwest have the benefit of mild winters so pool and hot tub
construction can go on year-round. This process takes approximately 8-12 weeks
depending on the size and scope of the project.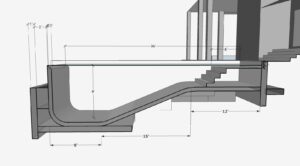 Design
The first step in building your pool is creating a design. This process involves
assessing your property for underground piping, wiring, plumbing, etc.. and
consulting with one of our landscape designers. Many of our designs share both
hot tubs and pools because many of the components and processes are shared
between the two. This makes it economically efficient to build both rather than
simply one or the other. The duration of the design process depends on how many
revisions are needed before beginning. At a minimum, this step will take a week's
time to complete.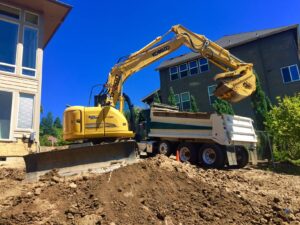 Digging
Excavation is the most iconic stage in the construction process of pools and hot
tubs. Our builders and landscapers love the northwest because the ground rarely
freezes enough to hinder excavation in the winter. Digging will usually take a week
or less depending on conditions.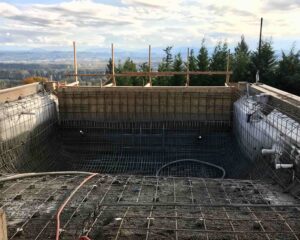 Rebar and Plumbing
Our builders will bend and shape steel to form the designs laid out for them by our
designers. This rebar (reinforcing bar) increases the durability of the pool by adding
tensile strength to the concrete. The plumbing, electrical, and gas (if using gas
heating) will then be laid out. This process takes 2-4 days plus an additional wait for
city electrical inspection (2-5 days)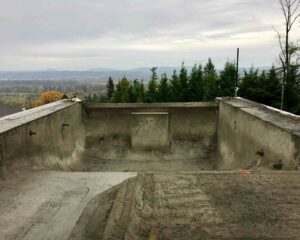 Shotcrete and Tiling
Next, our installers will form the walls of your pool with pressurized concrete
(known as shotcrete or gunite). This will be sprayed in and around the rebar
skeleton previously laid out. Tiles, decking, and any water features will be installed next to form the first signs of your finished pool and hot tub. This can take
anywhere from 3-6 days depending on the size of the project.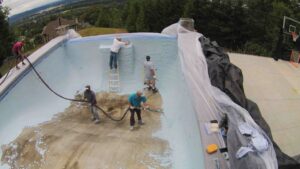 Final Touches
Lastly, your pool and hot tub will receive its decking (concrete or pavers are most
common) and finishing. Concrete decking is more affordable and can be coated
with a handful of options but will require more maintenance than pavers. There are
multiple substances that can be used to finish a pool (plaster being the most
recognizable).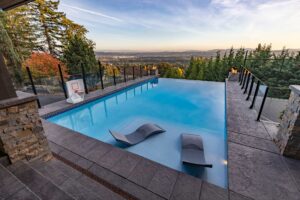 However, there is only one that is better than the rest, Hydrazzo. It
has the best finished texture and look, is the most durable, and is the easiest to
maintain. Hydrazzo is made by blending crystalline marble with Portland cement. It
is our preferred finishing material and is in a league of its own. The one downside is
it requires more upfront cost, a price worth paying for easier maintenance and
greater longevity. Lastly, the pool is washed, filled, and chemically balanced. The
finishing process time will vary significantly depending on deck and pool size.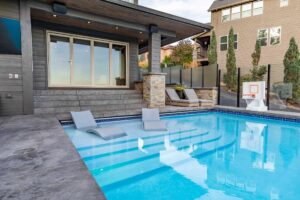 We hope this article sheds some light on what you can expect when looking for a
pool. To speak with one of our professionals, please call (360) 727-5975 or get started here.