Backyard Pool & Hot Tub Build Process in Vancouver WA
Pool companies and builders in the northwest have the benefit of mild winters so pool and hot tub construction can go on year-round.
Pools & Hot Tubs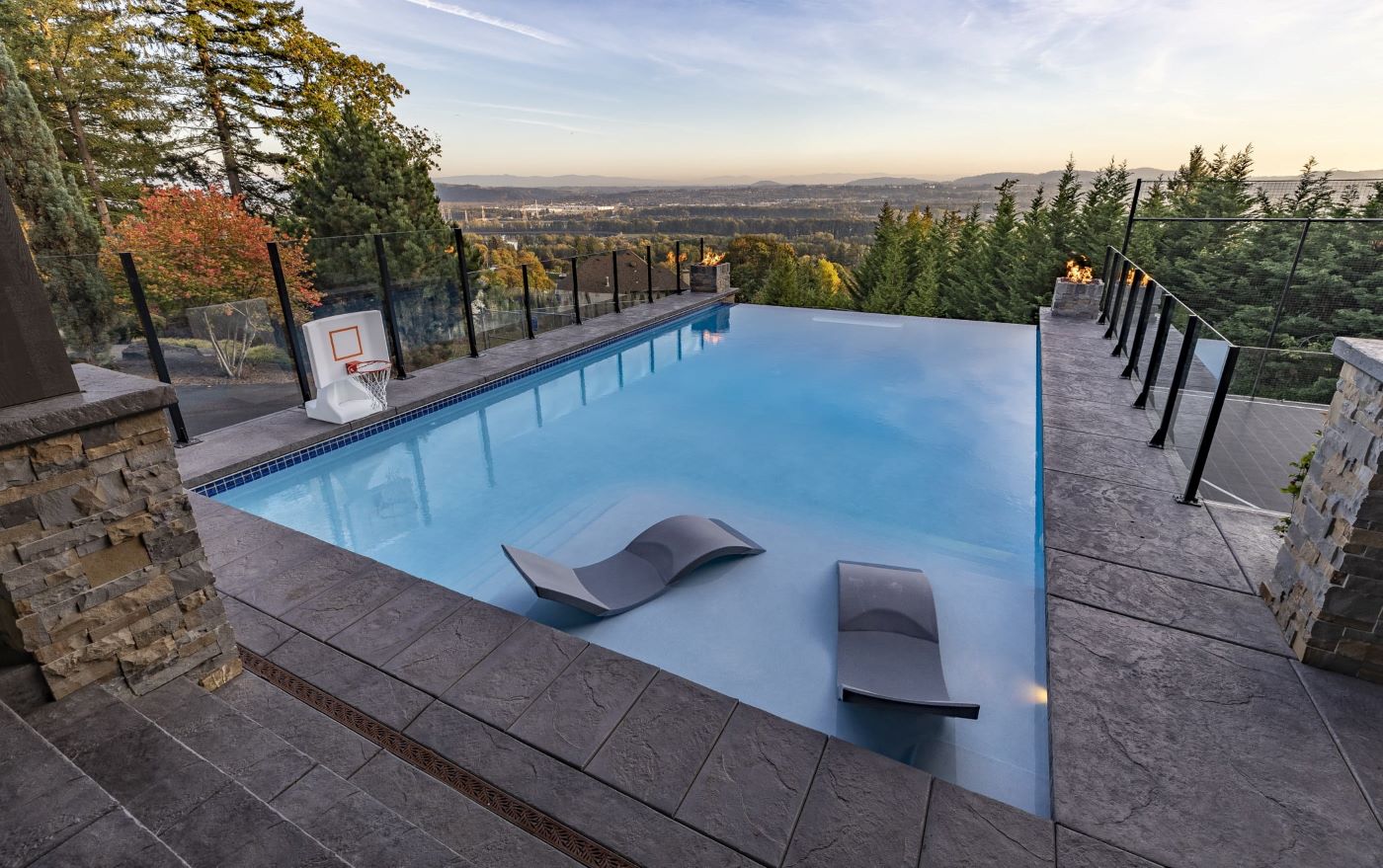 For Inground Pool and Hot Tub Installation, Contact Us Today.
Most people don't think about getting their backyard pool built until spring but designing and constructing takes months to complete. Pool companies and builders in the northwest have the benefit of mild winters so pool and hot tub construction can go on year-round. This process takes approximately 8-12 weeks depending on the size and scope of the project. 
Design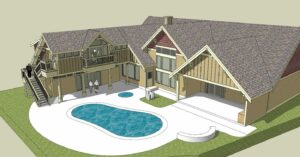 For more Backyard Patio and Pool Designs click here
The first step in building your pool is coming up with a design plan. This process involves assessing your property for underground piping, wiring, etc.. and consulting with one of our landscape designers. Many of our designs share both hot tubs and pools because many of the components and building processes are shared between the two. This makes it economically efficient to build both rather than simply one or the other. The duration of this step is highly variable and depends on how many revisions are needed before beginning. At a minimum, this step will take a week's time to complete.
Digging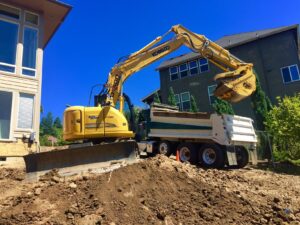 For General Construction and Remodeling click here
Excavation is the most iconic stage in the construction process of pools and hot tubs. Our builders and landscapers love the northwest because the ground rarely freezes enough to hinder excavation in the winter. Digging will usually take installers and contactors a week or less depending on conditions. 
Rebar and Plumbing  Installation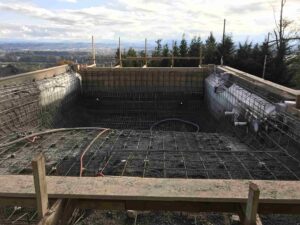 For Pool Houses we've made in the Portland Area, click here
Our builders will bend and shape steel to form the designs laid out for them by our designers. The plumbing, electrical, and gas (if using gas heating) will then be laid out. This process is 2-4 days plus an additional wait for city electrical inspection (2-5 days)
Shotcrete and Tiling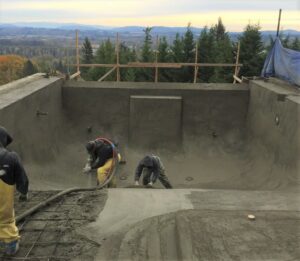 For Decking and other Pool and Hot Tub services, click here
Next, our installers will form the walls of your pool with pressurized concrete (known as shotcrete). This will be sprayed in and around the rebar skeleton previously laid out. Tiles, decking, and any water features will be installed next to form the first signs of your finished pool and hot tub. This can take anywhere from 3-6 days depending on the size of the project.
Final Touches
(Decking, Paving, Plaster, Hydrazzo)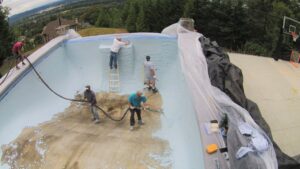 Lastly, your pool and hot tub will receive its decking (concrete or pavers are most common) and finishing. Concrete decking is more affordable and can be coated with a handful of options but will require more maintenance than pavers. There are multiple substances that can be used to finish a pool (plaster being the most recognizable). However, there is only one that is better than the rest, Hydrazzo. It has the best finished texture and look, it is the most durable, and the easiest to maintain. Hydrazzo is made by blending crystalline marble with Portland cement. It is our preferred finishing material and is in a league of its own. The one downside is it requires more upfront cost, a price worth paying for easier maintenance and greater longevity.  Lastly, the pool is washed, filled, and chemically balanced. The finishing process time will vary significantly depending on deck and pool size. 
Enjoy!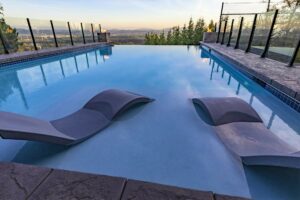 We often design and construct pool houses, patios, kitchens, and more, to complement and complete the pools and hot tubs we create. 
For pool houses, backyard patios, outdoor kitchens, and more, click here