Raised Garden Bed Builders in Vancouver, WA
Our Vancouver, WA, raised garden beds produce more fruits and vegetables than in ground gardens, are safer from pests, and control unwanted spreading.
Landscaping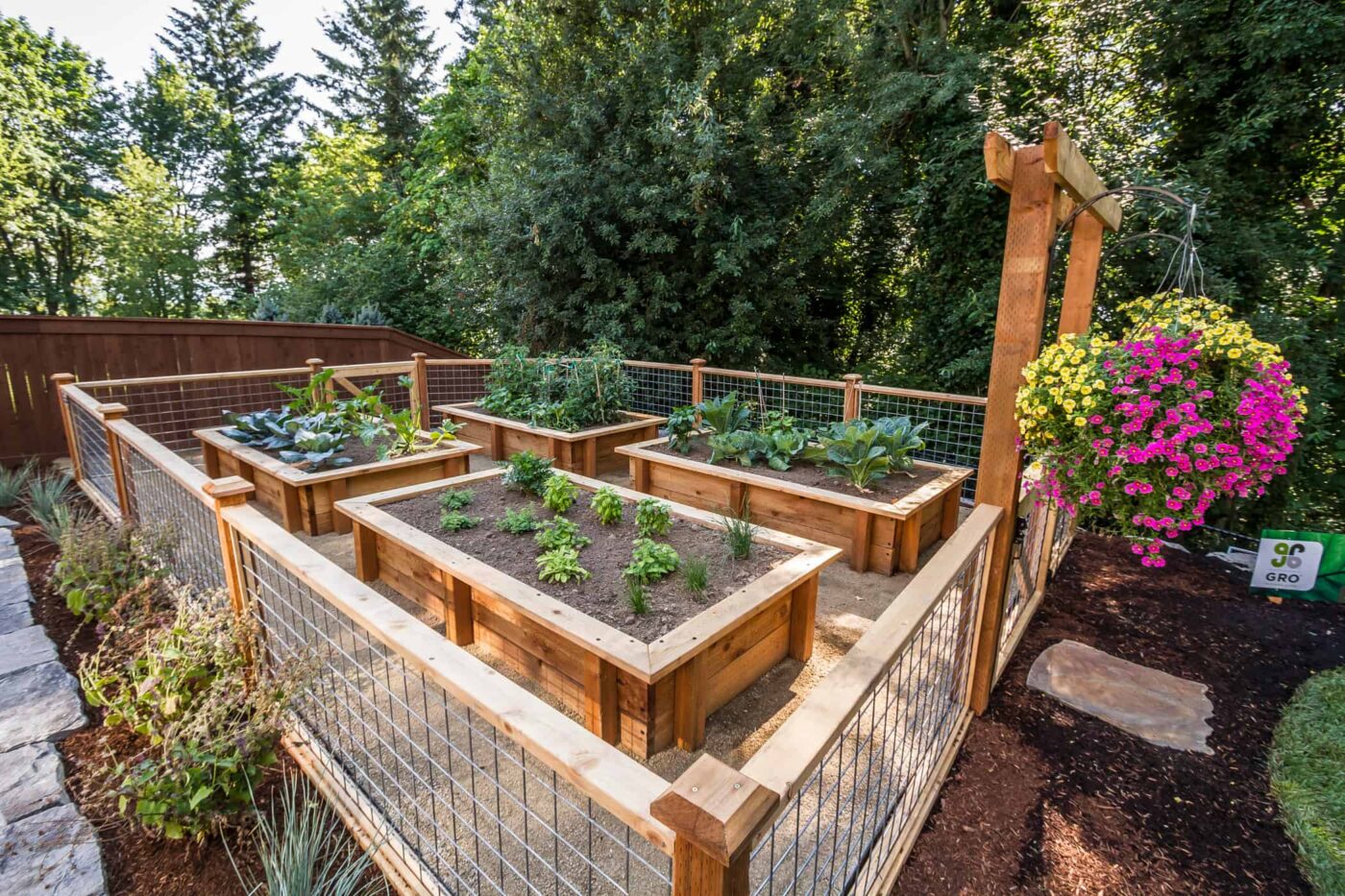 Raised garden beds produce more fruits and vegetables than in ground gardens, are safer from pests, and control unwanted spreading. In this blog we will go over these advantages and our favorite styles of raised garden beds. 
Advantages of Raised Garden Beds
Raised beds are more productive than in ground garden beds because the internal temperature of the soil is able to increase sooner in the season, the soil is less densely packed, and the drainage is better. This means plants and seeds will begin growth sooner, receive more nutrients, and have healthier root systems all to produce a greater and healthier yield for you. 
Raised beds are also more protected from pests, pets, and children. This means you won't have to worry as much about your plants getting trampled or eaten. This also protects the soil from any unwanted bathroom breaks from your pup(s). The typical height for raised beds is eighteen inches but we can install them at any height you desire. This is great for anyone who is less mobile and cannot work on the ground for extended periods. For unfenced yards with lots of foraging visitors, we recommend the appropriate screening or fencing to ensure protection.
Raised beds also allow for greater control of soil health. Starting from scratch with a raised bed allows you to curate the most nutrient rich soil possible. This will lead to better tasting and healthier fruits and vegetables for you and your family.
Soil Composition
Filling an entire raised bed with potting mix, while perfectly fine for growing, can get really expensive. We recommend using a garden blend (mixture of soil and compost), which we sell in bulk at our Landscape Supply store, or mixing your own using soil from your land and mixing it with compost. An ideal composition will have no more than 50% organic matter and 20% compost.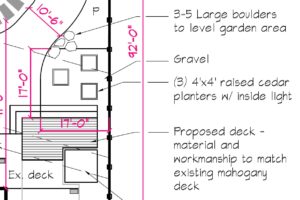 Yard Placement
We recommend placing raised beds in a location where they will receive a minimum of six hours of sunlight. Knowing what plants you will be growing will help inform this decision but generally, plants grown for consumption need at least partial sun to produce a worthwhile yield. Other factors to consider when choosing placement are proximity to water and accessibility. A location close to the house that gets plenty of sunlight is usually a good place to start.
Garden Box Styles

1. Wood
Wooden raised beds offer a classic garden box look that can be stained to match the fencing or cladding of any property. Wooden raised beds are most common because wood is highly customizable, lightweight, and affordable.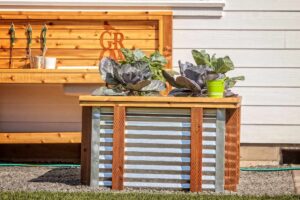 2. Wood with Corrugated Steel
Another popular style is a wooden framed garden box with corrugated steel siding. This style provides slightly more volume than those with wood siding and a more contemporary look.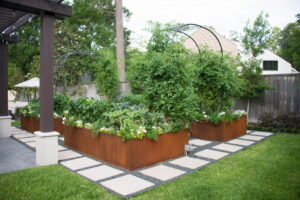 3. Weathering/Corten Steel (Rusted Raised Garden Bed)
This modern style is gaining popularity quickly. Weathering steel rusts on the outermost layer, protecting the inner steel from further corrosion. This style will last decades and maximize space but will cost more up front.