Year-Round Landscape Design Ideas in Vancouver WA
Backyard designers and landscapers in Vancouver WA and Portland OR have many challenges because of the rainy winters. Here's how we maximize your space.
Landscape Design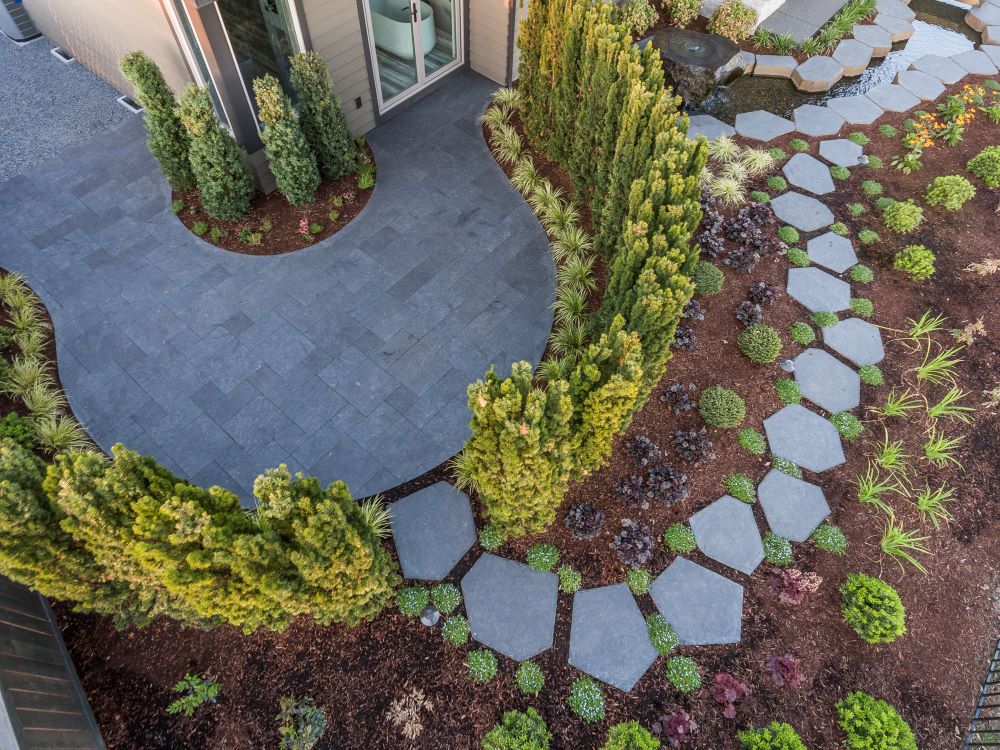 For Landscape Design that's Stunning Year-Round, Contact Us Today. 
Backyard designers and landscapers in Vancouver WA and Portland OR have many challenges because of the rainy winters. Here's how we maximize your space.
Each photo below is comprised of a landscape plan and a final photo. We love to see an idea come to life!
Evergreens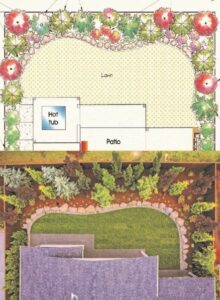 For more info on our local Vancouver WA Nursery, click here
Everyone from the northwest is familiar with how long and gray the winters can be. To combat this, our landscape designers like to bring color into the winter with evergreens.  When balanced correctly with deciduous plants (plants that shed leaves annually) a landscape can celebrate the changing of seasons without losing its lushness in the winter. The Northwest, being in a temperate zone, allows for a diverse range of evergreen plants. Be it ground cover, coniferous trees, or shrubs, there are plenty of ways to have a vibrant outdoor space in the northwest winter. 
A common misconception about evergreens is that they must be coniferous (cone bearing). In extremely cold climates this is mostly true but in the pacific northwest we have an abundance of evergreen plants that aren't coniferous. Stay tuned for an article breaking down some of our favorite Pacific Northwest evergreen picks.
Fire Features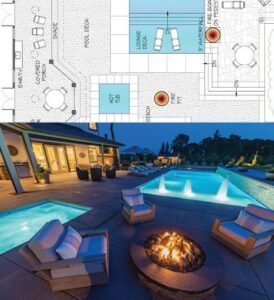 To see more of our custom fire features, click here
Nothing gets much cozier than a nice fire when temperatures start to drop. Fire not only keeps you warm but it floods your space with warm light. This can help combat the colder and darker months we have in the Northwest and makes for a great excuse to gather with those you love. Our team has designed and executed countless fire features like the one seen above.  
Stepping Stones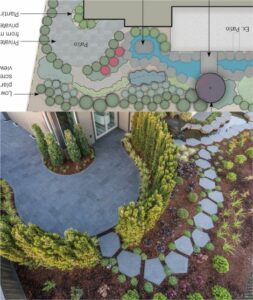 For landscaping supplies in the greater Vancouver WA area, visit GRO Landscape Supply
Even with proper drainage, the Northwest can get muddy in the rainy season. An easy and stylish solution for keeping your feet free of mud and mulch is stepping stones. The ones in the photo are made from cut black basalt and create a beautiful natural look that will last decades. Now, stepping stones are only effective when they aren't underwater. If you have drainage problems, we have Drainage Solutions.
Covered Areas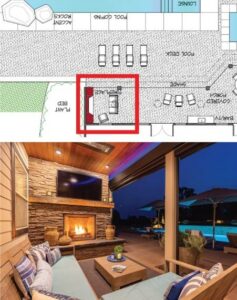 For General Construction in Vancouver WA click here
Second to last on our list is essential for combatting the rain that the Pacific Northwest is famous for. Covered areas allow homeowners to get outside and use their outdoor space for the 7 rainy months we get up here. A covered area is especially effective at maximizing the value you get out of your house when coupled with a heating element. This can be as simple as a gas patio heater or as thought-out as a built-in masonry fireplace. When it comes to Pacific Northwest winters, staying dry (with the exception of our next recommendation) and warm is all it takes to make your outdoor space enjoyable year round.
Hot Tubs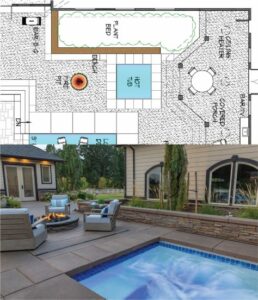 To see the pools & hot tubs we've created in Vancouver WA and Portland OR, click here
One of the best ways to warm your bones in the colder months while also getting outside is a hot tub. Whether above-ground or in-ground, hot tubs give us a reason to be excited for the colder months. Aside from being fun, hot tubs offer many health benefits. Better sleep, muscle relaxation, and stress relief are reasons enough to make the plunge into hot tub life, but they also allow us to spend time outdoors when we otherwise wouldn't. 
We hope these ideas inspire you to make the most of our Northwest winters. For help with any sized project please feel free to contact us here.