Outdoor Kitchen Essentials in Vancouver, WA
For Outdoor Kitchens with Islands, Barbeques, and More, Look No Further! We Design and Construct Custom Outdoor Spaces in Vancouver, WA, and Portland, OR.
Outdoor Living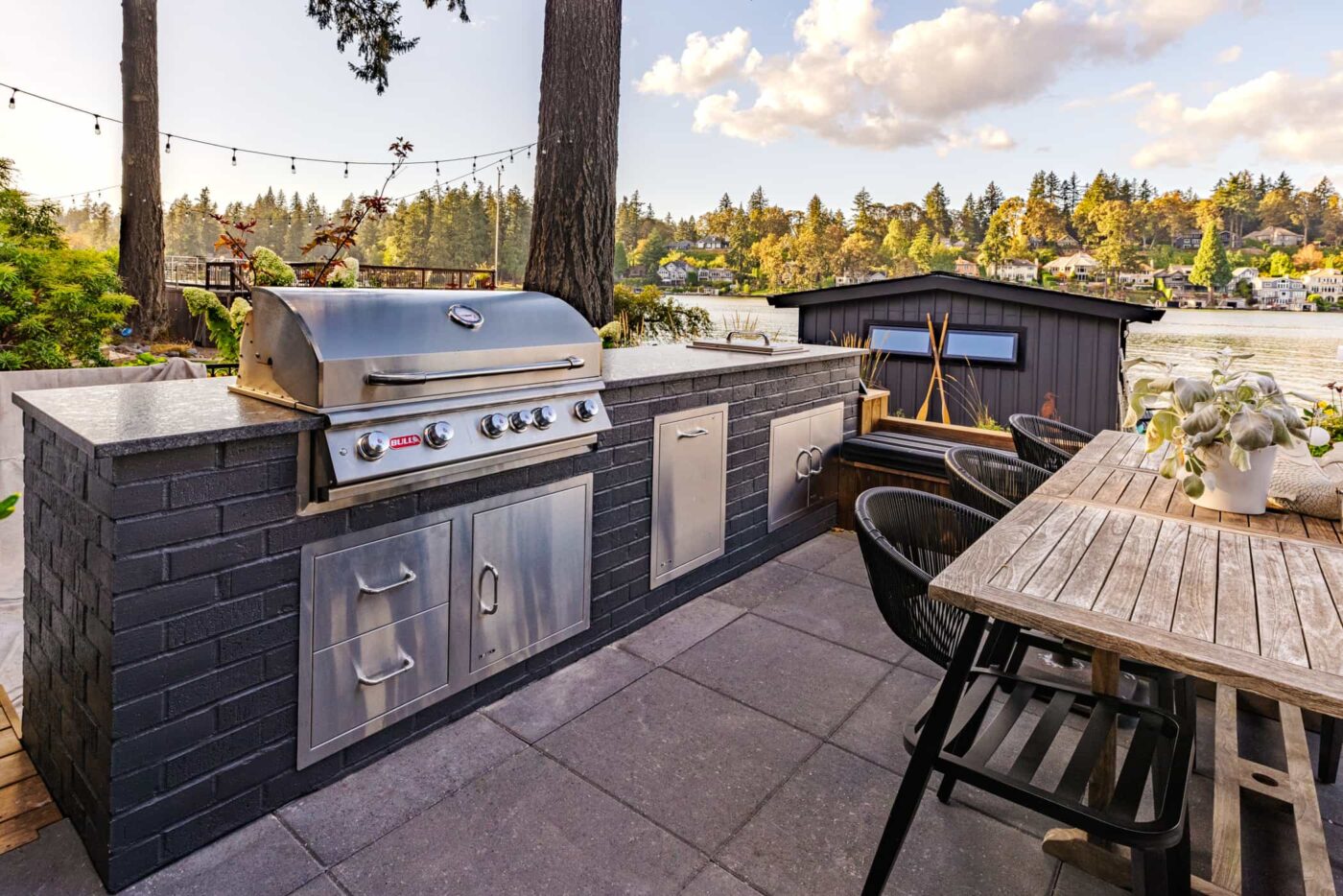 Looking to Build an Outdoor Kitchen?
Get Started Here. 
Our Outdoor Kitchens make summer cookouts a breeze whether you're feeding the entire team or making a romantic dinner for two. In this blog, we will go over some of our favorite outdoor kitchen features to show you just how much is possible with your outdoor space.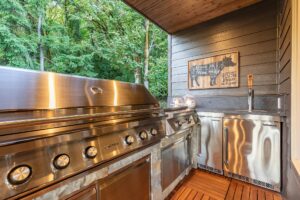 BBQ Stations
No outdoor kitchen is complete without a proper BBQ station. Grills, a smoker, and a range hood will make any meal possible for you and your loved ones. We've installed gas, pellet, and wood fueled cooking stations for our clients and will happily customize plans to meet your needs. The grill station above is equipped with a 6 burner grill, a griddle, an ice machine, and the pièce de résistance, a kegerator with a custom tap handle.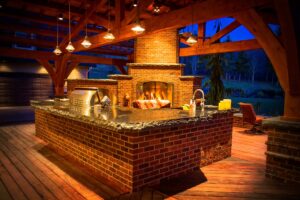 Outdoor Kitchen Islands
Kitchen Islands allow the kitchen to be in the center of the action. This project features a basalt stone countertop with supporting masonry below. The wooden covered area above provides year round shelter to make the most out of the outdoor space.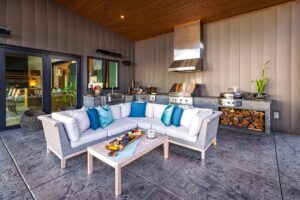 Range Hoods
Want to keep the smoke under control? Range hoods can be a life saver for serious grillers who don't want unwanted smoke entering their home and bothering their guests. Range hoods come in various sizes and strengths and are most necessary for outdoor kitchens that are close to the home and sheltered from the wind.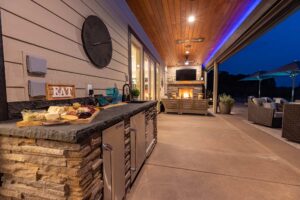 Covered Areas
Building a covered area keeps you, your furniture, and your outdoor living space protected from the elements year round. This allows you to make the most out of your outdoor space and your investment.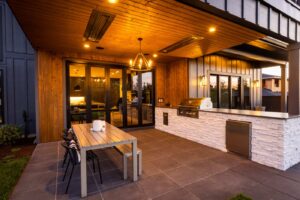 Overhead Lighting
Overhead lighting lets you keep the pool party going after sunset! They are even better during northwest winters, when nights begin at 5pm. Our contractors are experts at installing lighting and can customize them to your wants and needs.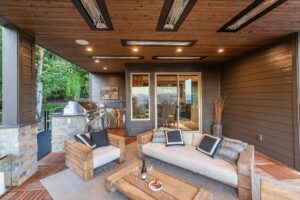 Outdoor Heating
Outdoor heating is another element that will keep your outdoor kitchen area going year round. The heating elements in this photo are flush with the ceiling and keep you warm without getting in your way or needing to be refilled. 
 Anything your outdoor kitchen needs, we can happily provide. 
Ready to start your project?